When can your dog walk free without a leash on the beach at Groede?
Between October 1 and May 1, the dog is allowed on the beach of Groede. After May 1 and until October 1, your dog may only run free between 18:00 PM and 10:00 AM!
Walk along the beach pavilions
On a walk along the beach of Groede you come across some nice beach pavilions, including Beach house 25. You can drink or eat something indoors or outdoors on the large terrace and dogs are allowed there. A little further towards Cadzand you will find on the beach, beach pavilion Pure. You can go there on Friday, Saturday and Sunday from 11 am for a late breakfast and they also serve lunch. Pure is open until 20 pm, on Friday until 00 pm. On the menu are vegetarian dishes, including vegetarian spaghetti, a Toast Vega and there is even a Veggie Burger available!
Parking is free on the large parking lot "Walendijk" between 15 March and 15 November and is located along the Walendijk road. Between November 15 and March 15, parking is not free and costs 1 euro per hour or 4 euros per 24 hours. If you enter Walendijk with the app "Here WeGo" or with Google Maps on your smartphone, the GPS on both apps shows the correct location of the parking. The parking is actually just outside Groede, in Breskens. There are also a few other parking spaces along the Zeeweg.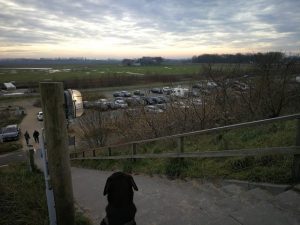 Walk from Groede-Bad to Breskens
Beach pavilion "Beachhouse 25" is an hour (5km) walk from the City Park Breskens and is easily accessible via the Panoramaweg (20 minutes by bike). Along the way you will come across other beach pavilions. There are also nice food and beverage outlets in Breskens. The village of Groede is less than 4 km from the beach. Count on 45 minutes on foot and 15 minutes by bike.
We found Groede-Bad a clean and quiet place. The beach of Groede is less crowded than that of Cadzand. It is an ideal place to walk alone or with the family or to let the dog walk loose on the beach of Groede. Groede is located in the Province of Zeeland and has no more than 1000 inhabitants. The village is approximately 1.5 meters above sea level in the municipality of Sluis, the Netherlands. I used to go there with my parents on Sundays sometimes walking our dog on the beach of Cadzand. Because friends had bought a 2nd house there, I also got to know Groede. The center is not large and there are not many shops. Because of the narrow streets, the market square and the unique location, Groede has its own special atmosphere.
Cadzand beach
Would you rather go for a walk on the beach at Cadzand? ... then you will find all the info here!
Cadzand Bad