Horseback riding in the hills above Maspalomas
When planning our vacation, we sometimes talk about it. When we are there, we will definitely go horseback riding! Every time something comes up and it doesn't work out. This year we were determined, we went horse riding in Gran Canaria! My daughter (12) really liked it. There are two easy to find riding stables offering horse riding in the mountains and along the coast. We stayed in an apartment near Maspalomas and tried to book the 2 hour mountain tour in the hills above Maspalomas.
Reservations at El Salobre
The other riding school Hipica Canaria was a 30 min drive to the airport and organizes walks along the coast, but also in the mountains. We had already seen the horses pass along the beach at Tufia. If you want a Beach Tour, it is best to book with them.
We chose for riding school El Salobre near Maspalomas† At the beginning of our second week in Gran Canaria I had sent a message to the whatsapp number (via the website). But 2 days later, I still had not received a response. I then called that whatsapp number, but no one answered. On their website, there was another phone number and I tried that number. They picked up the phone, but it was too late by now. The two-hour trips were fully booked.
We agreed that, if two spots became available, the riding school would contact us again. On Friday morning we still had no news from the riding school and I feared that horse riding on Gran Canaria would be on the next trip. We left for Belgium the next day. At 10:00 am I called them back to ask if there had been a cancellation. Indeed, 2 people had canceled for the 1 Hours guided tour in the hills around the equestrian center. I immediately agreed and we were there on time at 13:00 PM.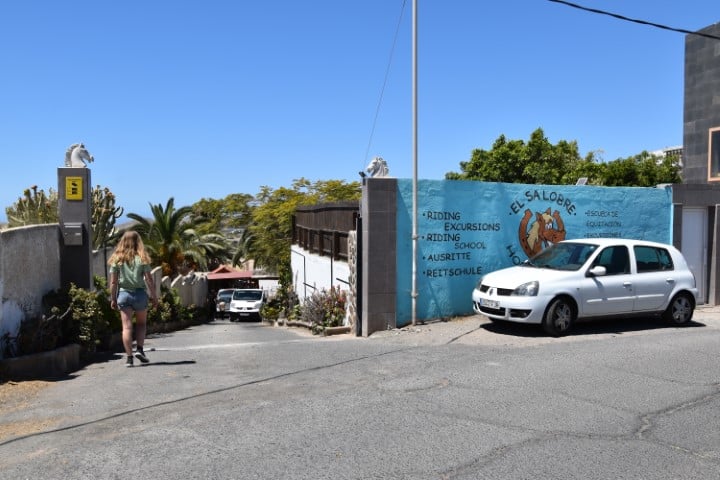 I parked the car in the same street as the entrance to the equestrian center and went to the meeting point to sign up. The meeting point is down the driveway and is a small wooden booth with some chairs and tables next to it to wait. About 10 people were already present and 5 minutes later we started the briefing. We followed the two guides to the entrance of the stables where we received the first explanation. The horses were assigned there and we got such a blue net over our hair and luckily also a riding helmet to put it away.
Nice atmosphere and calm horses
Not much later, after a little help, we were on our assigned horse. All riders gathered in the outdoor track before we could start the ride. This all went very smoothly and the horses were all very calm. My daughter was one of the first to sit on her horse. I followed immediately after and we waited for everyone to get ready.
After 15 min we were able to leave and all went through the steep driveway to the street. After 150 meters we had to cross a busy street and the traffic was held up by us for a while. We were supposed to walk in line and at least 2 meters away from each other. The horses are used to that, but every now and then a horse tries to pass. You should avoid that by pulling the reins for a while.
The journey meandered through hills, past houses and some streets. In the meantime it was 13 pm, but it was not too hot yet. It is probably something different in the summer. I did not like the first part of the walk, because the route passed unfinished dilapidated houses and there was waste everywhere. But once past this part, the environment became more beautiful. The horses had to go up the track for a good bit, before turning again towards hills with sand and sometimes large stones. We didn't come across a single car on that track.
The journey is fun and sometimes exciting. There are sometimes narrow paths with large stones, which the horses have to walk through. Especially for people who have rarely or never sat on a horse. On top of the hills you have a beautiful view of the famous sand dunes of Maspalomas in the distance. The route runs in a big loop and after an hour you come back to the road we crossed in the beginning. So we went over it a second time, but this time with more confidence and determination. With a look of, oh stop… we have right of way… If you're not used to riding a horse, then about an hour the first time is actually enough. We both felt it on our legs as we got off, we were stiff as a board. Fortunately, we got a little help from one of the employees to get off. She signaled to us: "shake your legs well before sliding off your horse". Watch the video below to get a better idea of ​​what to expect.
A free extra photo for everyone
After she escorted the horses back to their stables, we were able to send an email to there email provided with our name and the names of the assigned horses. It said on the magazine that El Salobre would forward the photos of us. They did that in the afternoon and it was completely free. We were happy that we had managed to go horse riding in Gran Canaria. Now my daughter and I could enjoy our last afternoon at the pool of our apartment† Hopefully our suitcase was already made.
Practical: What do you bring?
Clothes: Everyone was wearing long pants, but we hadn't thought of that anymore. Shorts were no problem at all for us, on the contrary. It was not very hot yet (April) and sunscreen was enough to protect our legs from the sun.
Sun cream is always a good idea. Also bring enough water along. During the trip it is difficult to drink, but I managed. I had put a small bottle in my camera bag. Sunglasses were necessary.
Location of riding school El Salobra
How much is horse riding in Gran Canaria at El Salobre?
We paid 30 euros per person for the 1 hour tour and drove there ourselves. If you are picked up, it costs €39 per person.
The two-hour tour costs €49 pp without transfer, with transfer the price is €59 pp.
There is also apparently a 4 hour tour. This tour costs 95€, transfer included.