Sandfly Island kayak trip
That day we planned 2 activities, kayaking from Everglades City to Sandfly Island and visiting Shark Valley. There we went on a guided tour with the Shark Valley Tram Tour. To be able to do both activities, we had to get up earlier than usual. After packing our lunch, we left for Southwest Florida at 8:30 am for our kayaking trip to tiny Sandfly Island. The drive from Key Largo took 2 hours and 15 min. Ten Thousand Islands has one of the best ecosystems in the world and we wanted to see that.
The mix of the fresh water that flows from the Everglades, and the salty water of the Gulf of Mexico, attracts many wild animals. We have seen birds flying over, jumping fish, mangrove tree crabs, turtles and even dolphins.
The kayak trip to Sandfly Island is suitable for novice kayakers. We rented at it Gulf Coast Visitor Center in Everglades City 2 double kayaks. You must have an ID (driver's license or passport) and note your credit card details on a form. From April, the best time to kayak in the morning is from 9u00 to 13u00 and depending on ebb and flow. It was cloudy and a light wind was blowing, so it wasn't too hot. Due to the long drive from Key Largo we rented the kayaks from 10u30 to 14u30. Even though it was a heat wave, they don't get me out of bed for 5u00 on vacation, even though I have to paddle a little harder (due to the stronger current) 😊.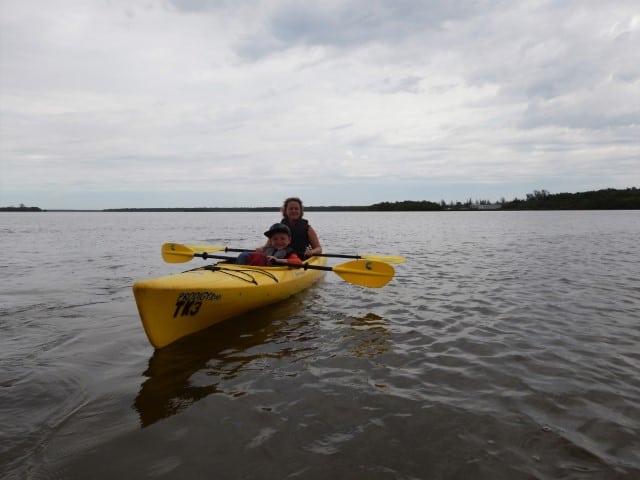 Sandfly Island Loop Trail
The best and only way to explore the area is by boat. Kayaks are ideal. We did the Sandfly Island Loop Trail. The route starts at the Gulf Coast Visitor Center and is approximately 5 miles long. Make sure to put on water shoes, because you have to drag the kayaks in and out of the water yourself. You can get the navigation map at the rental desk.
It is interesting to know when the tide is high. You can do the tide tables here check. The best time to leave is around 3 hours after the flood. That is almost impossible, because there is usually a flood around 2u00 in the morning and 2u00 in the afternoon. Nothing for me so. I want to go kayaking around 5u in the afternoon, but then you will be back at 21u00 and it will be dark in April. So you normally leave at low tide and return at high tide. The crossing to the first mangroves (along with the stream) and Sandfly Island takes approximately one hour. Along the way we saw pelicans flying over, we saw fish jumping (mulatto) and ospreys nesting on the poles. I also thought I had seen a manatee, but quickly went under.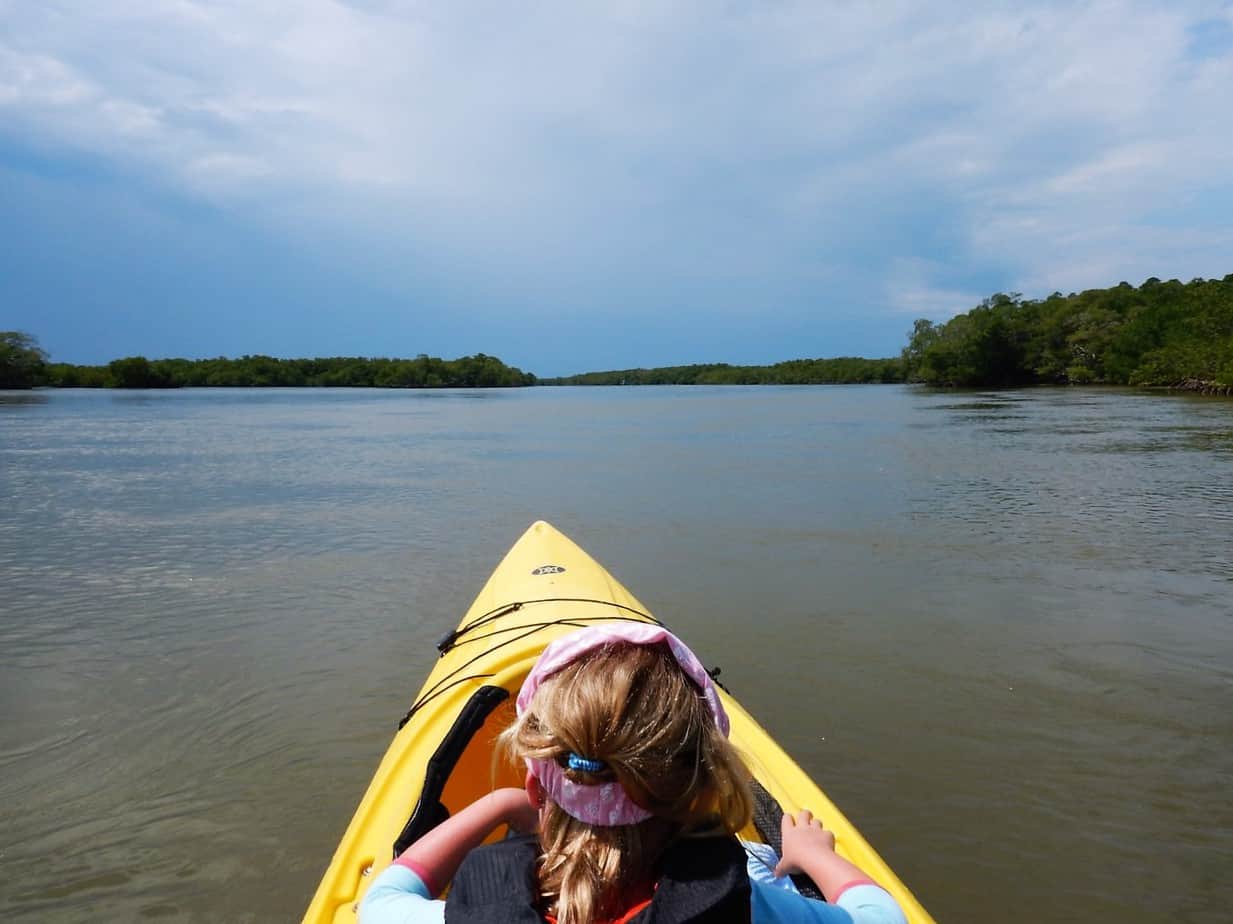 Kayaking to Sandfly Island
Sandfly Island has been raised by the Calusa Indians with shell mounds. The island is easily identifiable and is located approximately 1.5 miles from the Golf Coast Visitor Center. You can already see the jetty well from afar. Normally there is a portable toilet on it. Later on Sandfly Island lived a white family, the Bogess family, whose remains of the settlement can still be seen. They even had a tomato farm there. The crossing of the bay was more difficult, because there was more wind in the bay that day.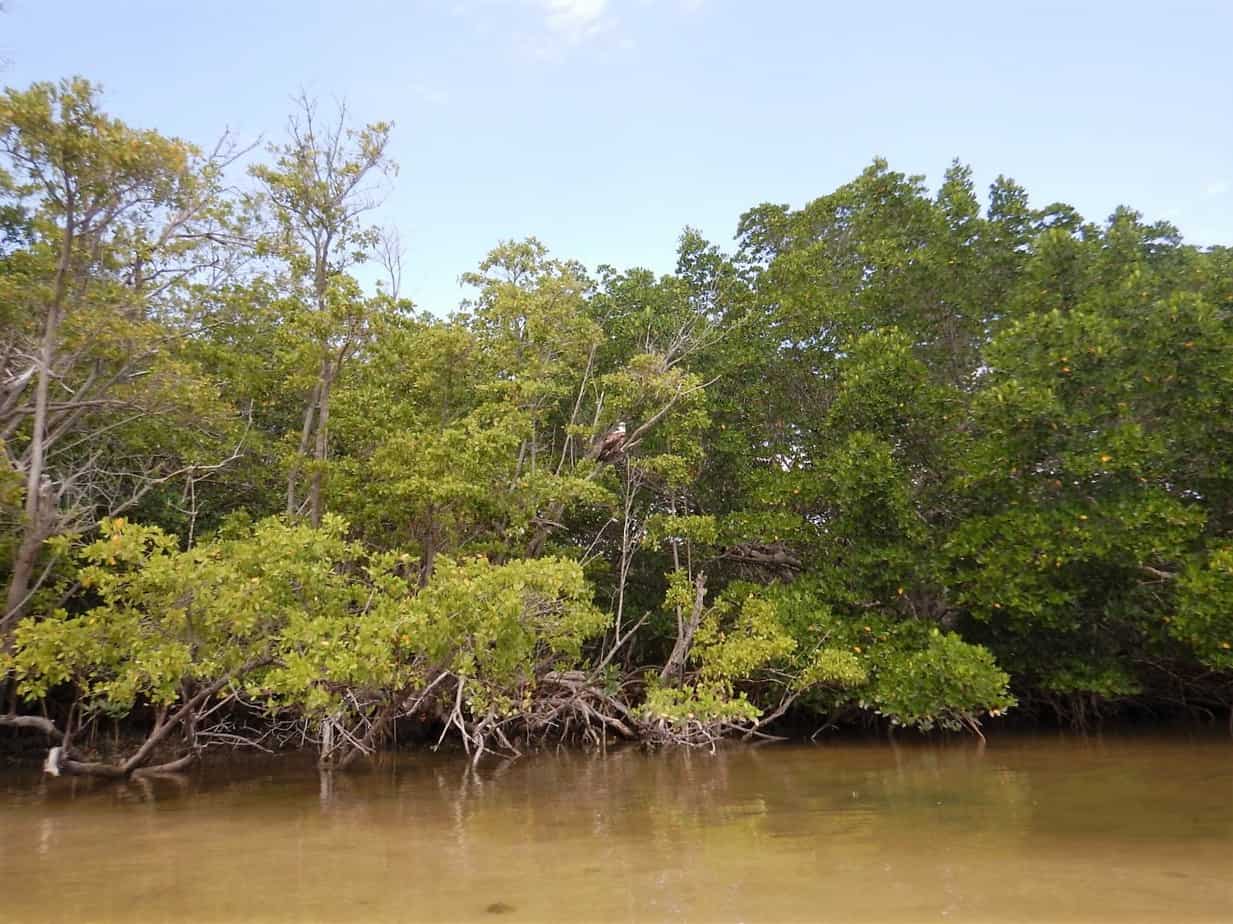 Hiking trail on Sandfly Island
Try to avoid the oyster beds. They resemble ordinary sandbar-like islands, but are extremely sharp. Especially at low tide and with an inflatable kayak, you should definitely watch out, so that the sharp oysters don't cut your boat leak. Before arriving at the Sandfly Island pier, a bald eagle followed our path from a tree. Next to the pier you can easily tow and disembark your kayak. On the island, a wooden path of about 1.5 km long meanders between mangroves and Gumbo Limbo trees.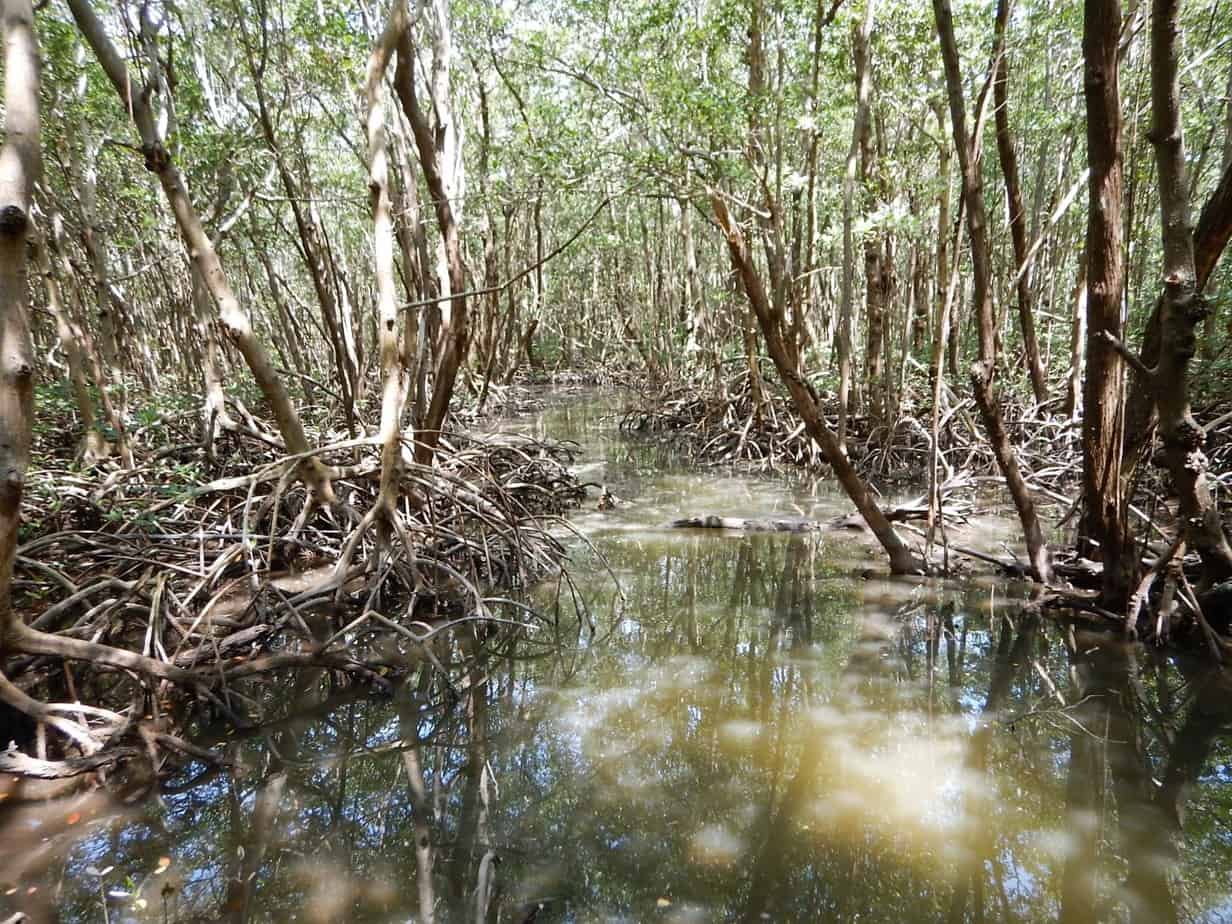 We had the whole island to ourselves. Joepie! Er… it has to be said, along with millions of mosquitoes and sandflies! HELP!! Normally you can walk around for an hour and we hoped to be able to eat our lunch there, but after 15 min exploring the island, we have to return (10 min) to our kayaks. It was really impossible, the mosquitoes and sand fleas came from all sides. There were no mosquitoes on the jetty and so we found our place to eat. We saw dolphins at this place. I don't know what they were doing there, but they kept swimming around the dock.
Navigate to Sandfly Island
From the dock, continue paddling to the tip of Sandfly Island and then turn left. The best way to find your way between the mangroves is to use a portable GPS or the GPS of your mobile phone. We used a navigation chart and got to a dead end several times. I didn't mind, as long as we got back on time. Everywhere you see mangroves in different shades of green. Everything looks alike. Fortunately our daughter was with us to show us the way (see first photo) 😊.
Sheltered between the mangroves you usually have little or no wind. After another hour of sailing, you will arrive back at Chokoloskee Bay. There we had a headwind (or was it the current) and it was hard paddling to cross the wide bay again. The entire trip took about 4 hours. Pack up and off to the next adventure, Shark Valley in Everglades National Park!
Nail Tips : Ten Thousand Islands Kayak Tour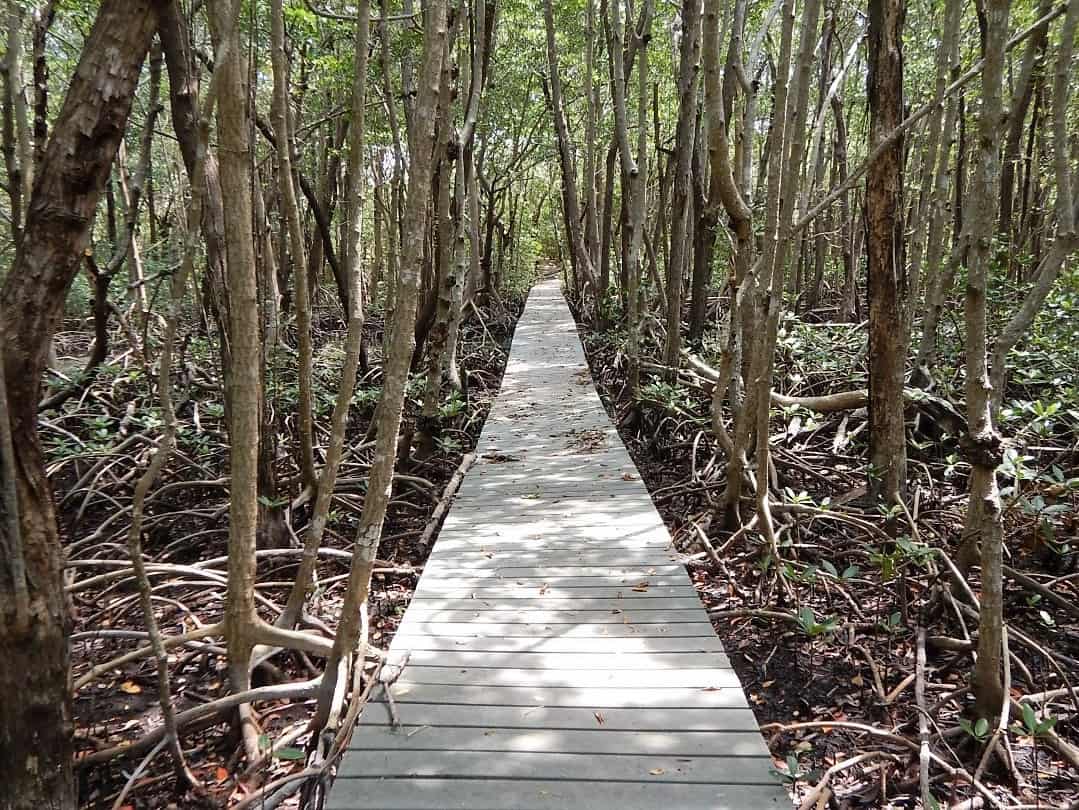 Put on shoes that may get wet
Always check the weather forecast for thunderstorms (the weather can change quickly)
Ask the Rangers for advice about the weather and the tides
View the tide card
Avoid the sharp oyster beds
Put on sunscreen and take it with you
Put on sun-protective and mosquito-resistant clothing
Bring enough water
Take water-resistant bag or put everything in a tub
Download maps on your portable GPS or mobile phone
Waterproof camera
Map: Kayaking to Sandfly Island
Our next stop: Shark Valley Tram Tour
Kayaking to Sandfly Island was one of the most fun activities on our South Florida trip. Our day was certainly not over as we went to Shark Valley later that day for the Shark Valley Tram Tour to do. We were just in time to check in ...