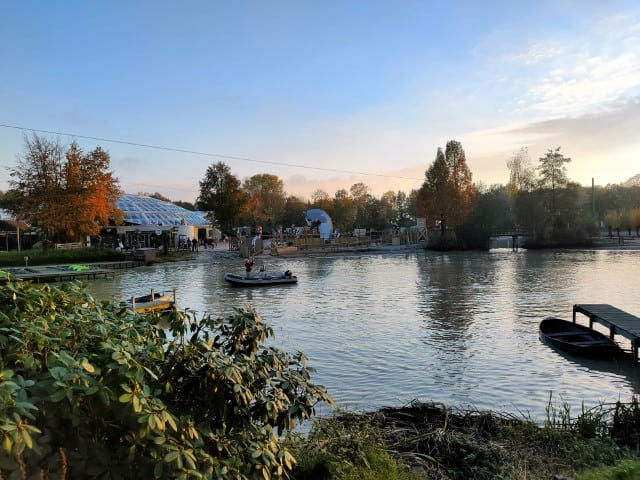 Midweek Center Parcs De Huttenheugte
This year a midweek Center Parcs De Huttenheugte was on our program. It had been since February XNUMX that we had been on another trip. That was when we were on Spring break in Brittany and rented a holiday home right by the sea were we made beautiful walks along the beautiful Breton coast. So we were looking forward to a midweek Center Parcs De Huttenheugte in Dalen. Booking a trip was still a risk so we took an extra travel insurance for a possible cancellation due to a covid-XNUMX infection or due to the closing of the borders.
Tips for a high discount on a midweek Center Parcs De Huttenheugte
Fortunately, we did not need the cancellation insurance and were able to travel to the Netherlands provided the sky-high infection rate in the region. My parents went with us, as usual during the autumn holidays, but the week before departure they had expressed their doubts whether it would be safe to go to Drenthe. They eventually went. We did not feel unsafe at the bungalow park. Due to the renovation works, there were far fewer people in the park than usual.
Type XNUMX: We booked a last minute only XNUMX weeks before departure and got XNUMX €discount on the total price.

Type XNUMX: Always look for price differences between the different websites (Netherlands/Belgium/Germany) of Center Parcs. Our midweek Center Parcs De Huttenheugte had a price difference of XNUMX €between the website of Belgium and the website of the Netherlands! That's because in that week there were no school holidays in the Netherlands, but autumn holidays in Belgium.
Type XNUMX: Actually we were going to book a midweek from Monday to Friday, but I booked an extra night. The price for the extra night was negligible. In the past this was not possible, but nowadays you can choose when you check out and you can add an extra night. To my surprise the price foradding an extra nightwas only XNUMX euros more expensive, which means an extra discount of XNUMX €. This probably won't always be the case, but it's worth a try. It was also less busy at check-out on Saturday and less busy on the way back.
Center Parcs is always a bit of nostalgia!
Center Parcs De Huttenheugte has been around since 1972 and is located in Dalen, Drenthe. It was one of the last CenterParcs parks that we hadn't visited yet. I can already say that we had a great time. As a child, I went to Center Parcs park with my parents every year during the autumn holidays. We continue that tradition with our own children and my parents are still happy to go along. They love being able to travel with us and the grandchildren, but a touch of Center Parcs nostalgia will certainly have something to do with it as well. The atmosphere in all Center Parcs parks is unique and you will usually not find it in other parks, such as Landal or Roompot.
At the time we spent our midweek, there were some renovation works. We didn't notice much of the works. All 658 bungalows are being refurbished and the lake is currently being dredged as well.
Our bungalow, type HH623 in the 500 series, had not yet been renovated, but was certainly not old. We were in between two other bungalows and like most houses in De Huttenheugte our bungalow was right on the water. Every morning you would see ducks swimming and if you threw bread outside, they immediately came for it. Our dog Buddy was also with us and had a good time (the extra price for a dog was € 19,50). He never gets that many walks in one day at home. The premium bungalow had 3 bedrooms, one bunk bed for the children and 2 bedrooms with a double bed.
For some reason we always sleep very well in these types of beds. In the bathroom it would have been more practical if the mirrors could also serve as a closet. A second toilet is usually present in a premium bungalow, but this time, strangely enough, this was not the case.
Everything else in the bungalow worked perfectly, dishwasher, kettle, coffee maker and there was also a Dolce Gusto machine. We had bought a box of Grande coffee cups and chocolate milk cups in advance. The shop on site is always a bit on the expensive side. The dustbin was in a somewhat strange place in the kitchen, so that the lid could only lift halfway in that place. Because of the many mobile phones, tablets and the 4 laptops for our work and the homework of the children, we could use extra sockets. Perhaps this "evolution" is taken into account in the renovated houses. Tip:: bring a power strip with you for convenience.
No more keys needed in Center Parcs De Huttenheugte
What is special about this park is that almost everything has been digitized with wristbands. You will receive the wristbands at check-in. All the info needed is already on the straps. You also use them in the swimming pool, so you no longer need euros to close the lockers. This is done automatically by pushing the wristband against the lock of the locker. To open the locker again after swimming, simply hold your wristband against the lock again. If you have forgotten your locker number, hold the strap in front of a device at the showers and the number of your locker will appear on it.
You can also open the door of your bungalow with these straps, so you no longer need a key. All activities that you book are also included on the wristband. No vouchers and so on needed. I thought it was a super easy system. Hopefully they will use this system in all other Center Parcs parks!
Activities at the park of De Huttenheugte
The park is very quiet, it is very quiet in the evenings and on a clear day the starry sky is beautiful to see. Due to the works, we heard a machine on the lake from about 9:00 am during the day, but we didn't hear it in the bungalow itself. That was less important to us, but in the summer I can imagine that this can be very disturbing on your terrace.
Everything you can do is in the vicinity of the Aqua Mundo. There are boats that you can rent just in front of the entrance to the Aqua Mundo. The climbing tower and the zipline that goes over the water can also be found there.
The climbing course next to the climbing tower runs just above the beautiful mini golf course. We covered the entire mini golf course in just under 2 hours. The price for the 6 golf clubs and 6 balls was 51 euros.
High altitude course between the trees
In the meantime, the high-altitude course that runs through trees had already been completed and our children were able to try it out. They did not find the course really spectacular, but it is nice to do it when the weather is sunny. Our children are now 12 and 14 years old and have already done several such climbing courses. The ideal age for this course seems to me to be around 8 to 10 years. Children as young as 12 who have never taken a climbing path through trees will probably like it too. The price for a 45min climb was 17 euros per person.
What is there to do in the area?
In the immediate vicinity of Center Parcs De Huttenheugte you can visit Dalen and Coevorden. Dalen is a pleasant village with many cafes and restaurants. Coevorden is much bigger and we took a small city walk there.
There was a carnival going on when we were there. The children once shot at the shooting range, ate oliebollen and cotton candy. We also visited the "castle of Coevorden" and took a nice walk, ending with a beer in a cozy cafe on the market.
Drenthe is known for the dolmens and only a 30-minute drive from Center Parcs De Huttenheugte we visited some of the 54 different hunebeds, including the largest Hunebed in the Netherlands (D27) !! I can assure you, there was no movement in it. We enjoyed our "midweek Center Parcs De Huttenheugte", as well as the beautiful surroundings. It's an area we definitely want to visit again.