For the road trip from Key Largo to Key West we left from Key Largo, because we had our permanent residence there.
The only connection between the mainland and Key West is the "Overseas Highway US 1". It is a 205 km long road that runs over 42 bridges and connects all 45 islands (De Keys). The Seven Mile Bridge is the longest bridge. The distances are indicated by green signs (Mile Markers-MM) along the road. Mile Marker 0 is located in Key West at the intersection of Whitehead Street and Fleming Street. Key Largo is for example at MM 100 and Florida City at MM 127.
Distance and driving time from Key Largo to Key West
From Key Largo you should count 2 hours without extra stops The total distance is 160 km. If you were to depart from Miami, the distance is 250 km and it is best to calculate 3 to 4 hours. In that case, I would consider staying overnight in Key West. There is also a fantastic Caribbean atmosphere there that you will not find anywhere else in America.
That day we got up early and left around 8:30 am. We drove straight to our destination. If you would like to have lunch on the way, I can recommend Bahia Honda State Park (MM37). You can swim, snorkel and rent kayaks. Sandspur Beach in Bahia Honda State Park is one of the most beautiful beaches between Key Largo and Key West. Park entrance is $8.50 per car. We had set aside a full day for this and did not stop there this time. I had pre-installed the parking garage in Key West in my cell phone. The parking (City of Key West Old Town) is not cheap, but I didn't want to waste our time looking for a parking space.
The parking is well situated on the harbor, a short walk from the center. We walked through the harbor to the 2 kilometer long Duval street. In the center you will find shops, restaurants and cafés everywhere. It is bustling with the people, but it is a pleasant crowd. We passed the world-famous Sloppy Joe's bar and made a stop at it "America's oldest house". After the entire tour you could make a voluntary contribution when you leave.
First, we ate an ice cream and then we went to the most southern point of the United States. There was a long line to take a picture of the red-black buoy. Our children (and us too) did not really feel like waiting. We only took a quick photo in between.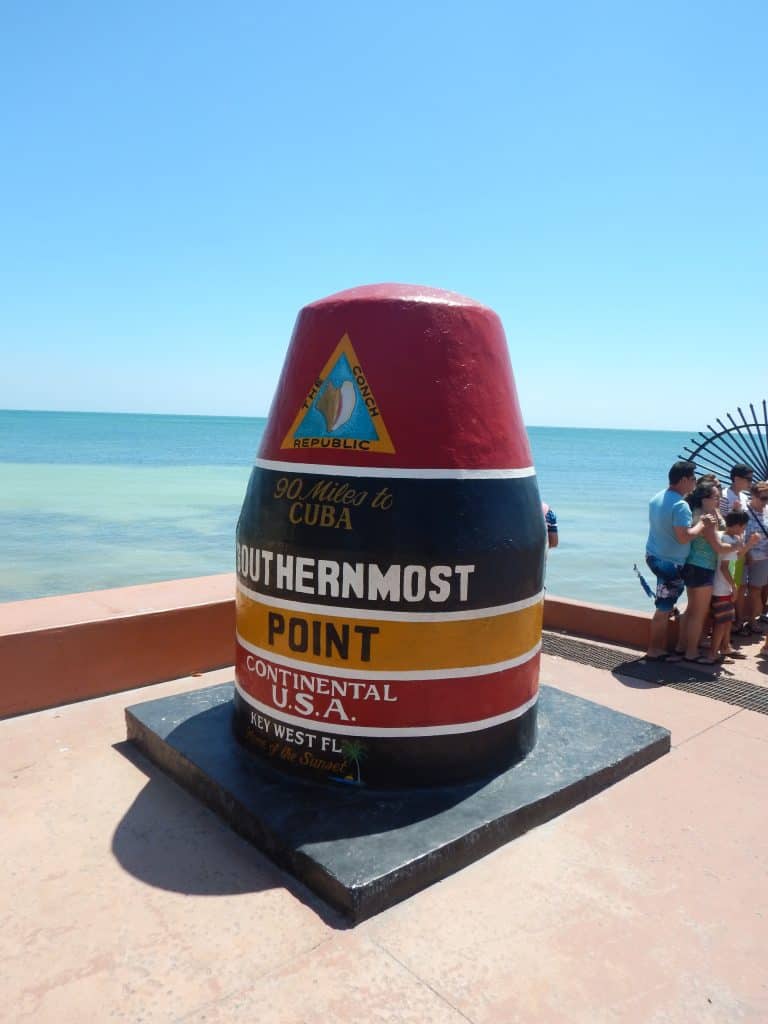 Walk along the old cemetery
The whole walk took 2.5 hours in total and Eli & Tess preferred to have a drink on a terrace. In the meantime I went to get the car to pick them up later. I walked to the parking garage through all kinds of nice streets and along the old Key West Cementery. It was interesting to see the other Key West. The streets were very quiet. Once in a while I came across a dog or a few chickens. After an hour of strolling I was back at the car and I went to pick up the equipment.
On the way back we stopped briefly at the old Seven Mile Bridge, after which we took a swimming break. In addition, Eli wanted to go fishing. I had bought a fishing license in advance so that we wouldn't have any problems. The fines are no less. The link to buy a saltwater fishing license can be found here .
In the meantime it was 20 PM and time to eat something. Finally, we did this in a restaurant on Islamorada. I found the address through Groupon. After dinner it was still a half hour drive and we were at home at 00 PM. Super day!
That day we did not have time to snorkel from Key West. We later booked one snorkel trip to the coral reefs of Key Largo.
The next day we went canoeing in the Everglades National Park. We did the route: "Nine Mile Pond Canoe Trail".
The famous writer, Ernest Hemingway, stayed and worked here. He moved to Cuba because it was too busy in Key West.
One of the best activities you can do there. I did this before. Don't hesitate, just do it! One of the providers of sunset tours is Sunset Sail and you will find here . You can also go snorkeling to a coral reef from Key West. One of the providers is Fury and uses a Catamaran to sail to the coral reef. You can find the link for more information here .
One of the best places to view the sunset, if you are not on a sailing boat at that moment. Also a nice place to hang around. There are many street artists and bars. You can find activities at Mallory Square here .
The red-black painted buoy that indicates the southernmost point of the continent of America. You can find the southernmost point of the United States at the end of Duval Street (meeting of Whitehead Street and South Street).