Madeira is a beautiful green island, where countless rivers arise in the mountains and you can fish for trout. From every rock or mountain and between valleys you see water flowing on Madeira. There are small and large waterfalls everywhere. The rivers are diverted by more than 2000 km of levadas that lead the water to the lower meadows and villages. Levadas are irrigation channels of approximately 1 meters wide, which serve to supply dry fields and soils in the south with water. Every year trout are released in these rivers and levadas.
But you will not be able to do trout fishing in every river, because some levadas and rivers simply get too dry in the summer. After a long search we found some good spots. We have tried to catch trout in many places with varying degrees of success. At the end of the walk "25 Fontes" and not far from the car park, we caught for example three (small) trout. In Madeira you need a fishing license for both freshwater trout fishing and saltwater lace fishing! See further.
Trout fishing in the Levadas
We caught most rainbow trout in small rivers and during a walk along a levada above Porto Moniz. The walk mentions "Levada do Ribeira do Janela"and is an ideal combination walk for trout fishing and at the same time for a walk. You just put a fishing rod telescope, a small pair of pliers to properly unhook the trout, a few artificial flies in your backpack and you set off. The flies were Shakespeare's flies from the Sigma Fly selection: Dry flies, stagnant water.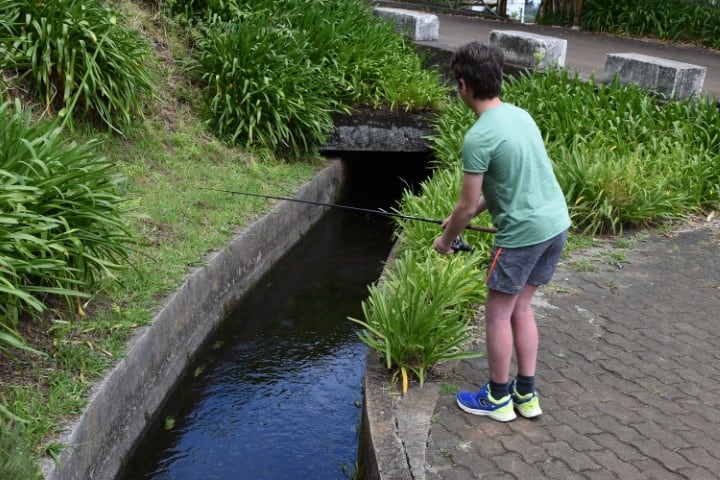 We discovered this place quite late on our holiday and I am sure there are many other places where you can catch a lot of trout, but this one was the best place for us. There are parking spaces around the café "Levada de Janela". Unfortunately, fishing is prohibited in levadas in Madeira, but we didn't know that at the time (see below). As I wrote above, if you like to walk, just bring a travel rod on your walk and you might come across a pond or river, where it is allowed for fishing. Another option is to hire a local guide who will show you the good fishing spots. The advantage of this is that the fishing license is also arranged for you.
If you want to make the entire walk, you have to start early, because the total walking distance is 23 km. We walked along a valley and at the end through a long narrow tunnel. It's bad in the tunnel dark, so be sure to bring a flashlight or at least a phone with LED light. At that time there was a lot of water and mud in the tunnel. At the end of the tunnel you see a house with moss on it (shelter) on which a high waterfall falls. There we returned. The distance we covered was about 10 km in total, but it took a long time. That was of course due to the trout fishing. But even without fishing on the way, the walk is worth it!
Levada da Ribeira da Janela
We spent a lot of time fishing at the start of the walk, because at the beginning of the walk, where the water flows under the road, a trout was hanging on the line quite quickly and my son didn't want to stop. We started the walk at 2.50 pm and were only back to the car at 7.15 pm. Walking about 2 km along this levada, you come to a second lock, where the levada is clearly wider (about 2 meters wide). We stayed at this place for a long time and my son caught a lot of trout. At the fishing spot there is a shelter that we could use well on the last day. See movie 😉
The license can be obtained via a website, at a payment terminal with a Portuguese debit card or you can pick it up at the Ministry of fishing in Funchal. We chose the latter because it was not clear how I could correctly purchase the freshwater trout license via the internet. All you need is a passport and 4 euros to be allowed to fish for trout 1 for a month and of course the address of the ministry. There are a number of rules that you must follow to fish for trout and they were on the e-mail I received with the license application for at sea.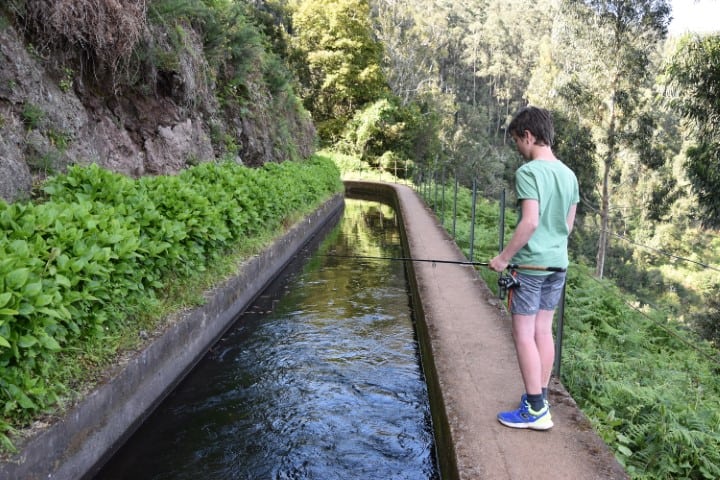 I received this info from the tourist office of Madeira:
"With regard to freshwater fisheries, the Institute for Forest and Nature Management (IFCN - Instituto das Florestas e Conservação da Natureza IP RAM) grants fishing permits in public freshwater locations, as long as they are not reserved or allocated areas. There are temporary permits for tourists (Licença Temporária para Turistas) that allow you to fish for up to a month. Fishing is allowed all year round. "
Where can you purchase a fishing license for trout fishing?
The licenses can be obtained online, but since you are required to create an online account, IFCN suggested that I purchase the Madeira license at one of the offices listed below.
Head office: See photos below
Address: Quinta Vila Passos - Rua Alferes Veiga Pestana 15
9054 - 505 Funchal - Madeira Portugal
Tel .: (351) 291 740 060 / 40
E-mail: [email protected]
Rua de São Bento, 49
9350 Ribeira Brava
Tel .: (+351) 291 952 135
Sitio do Ribeiro Frio
Tel .: (+351) 291 575 434
The pictures below were taken at the "Instituto das Florestas e Conservaçáo da Natureza" office in Funchal, where I went to collect the freshwater permit. The desk is located in the white building with red roof. I had to pay cash.
Trout fishing regulations in Madeira:
It is forbidden to store, transport or consume trout with dimensions that are smaller than 18 cm. Fish that are smaller must be returned to the water.
When fishing for trout, only one rod and one hook is permitted. Natural bait is forbidden, but fishing from land or running through the river is not prohibited. Trout fishing in shelters, farms, or trout passages is also prohibited.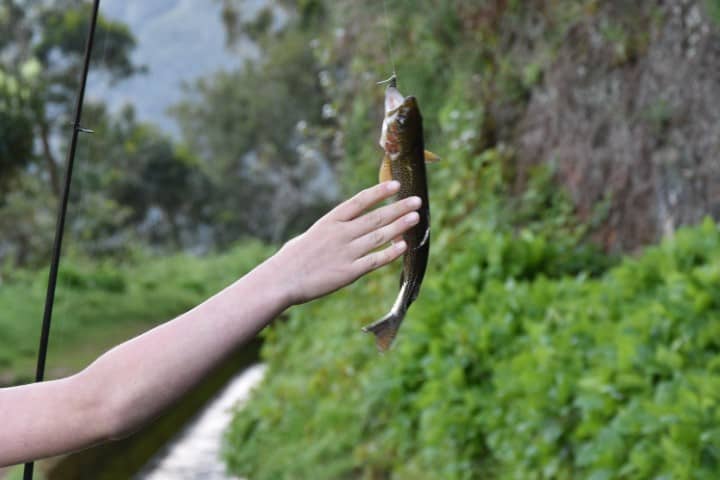 Fishing for trout in the levadas is prohibited
I got a response this week that it is actually illegal to fish in levadas. I immediately checked this with the Ministry of Fisheries in Madeira and they confirmed that it is indeed illegal to fish in levadas! The response from the Ministry of Fisheries: "It is also forbidden to fish in aquatic areas such as shelters, reproduction nurseries, aqueducts or passages for fish, as well as along the levadas.That last part (as well as along the levadas) was therefore not in the regulations with my first application. Levadas are thus seen as passageways for trout.
Where is fishing for trout prohibited?
In Ribeiro Frio, from the origin of the river to the bridge next to the aquaculture station;
In the São Jorge River, from the origin of the river in Ribeira Grande to the junction with Ribeiro Bonito, its wealthy in the left margin, including Ribeiro Bonito itself.
Upstream of the Ribeira Grande and the Ribeira da Vargem in the river of Sáo Vicente, including its tributaries.
Ribeira da Janela, in the branches of the origins of the Ribeiro do Alecrim and Ribeiro do Lajeado, which lie upstream from the levada that feeds the reservoir of the Calheta hydroelectric power station (Chão do Paúl).
Information obtained from the tourist office of Madeira
There is a possibility to do trout fishing in a private park and you have the option to have the trout you caught cooked over a traditional fire and eat it on site. The park is called "Parque Ribeira Primeira". We walked past it, but it was just closed that day.
Address: Caminho da Levada da Serra do Faial, Lombo das Raízes
Santo António da Serra, Santa Cruz
Tel .: (+351) 925 421 923
Via the website address below you can access the FB page of the company.
http://parqueribeiraprimeira.com/

There are many providers for fishing at sea. I myself am not a fan of big game fishing in the open sea. My son always likes fishing from a rock or from the shore, but have not caught so many in Madeira. The sea was too turbulent for good fishing. In the port of Ribeira Brava we sometimes fished from the shore for a day and there he caught some 10 small fish. I must admit that it was usually on the afternoon that we fished there. Maybe it would have been a completely different story in the morning or in the evening.
License for saltwater fishing
To fish at sea in Madeira you even need a fishing license from the shore, since not very long. We have not been checked in Madeira, but I like to be fine with the papers if this should happen.
Fishing license
The permit is definitely not expensive and actually quite easy to get. You fill in the form and pay the amount to their (Portuguese) account. A few days later you will receive a confirmation of the payment and that is proof that you have purchased a valid fishing license. You keep this on paper or on your phone.
Details saltwater fishing license Madeira
The tourist office sent me a form to be completed, which I then had to send to the Regional Fisheries Commission in order to receive this fishing license. There is an 30-day fishing license for the coast and a license for 12 months. Of course I took the 30 day saltwater permit. You can request the form from the tourist office at the following email address: [email protected]
I sent the form (excel) to the following e-mail address:
You need a passport number, address and email address to complete the form.
You must enclose proof of payment of the license (phone screen picture). The price was € 4 per person and is valid for 30 days. The payment can be made by transfer to the following bank account: IBAN - PT50 078101120000000825056. Just to be sure, check the rates and the account number via the tourist office of Madeira ([email protected]) before making a transfer. I only praise this service. It is the first time that I have received such a quick and comprehensive answer (via email) to all my questions!
Children under the age of 16 must not purchase a fishing license if they are accompanied by an adult who is in possession of a fishing license. Regulations from XNUMX
Would you also like to go on holiday to Madeira, be sure to read my blog "Flower island Madeira"And the part"Top 10 sights of Madeira and what to do". Whether for fishing, hiking or just for the beautiful nature, you will find all the necessary information for a fun holiday on one of the most beautiful islands in the world!